If you look at how product pages take shape from company to company, you'll notice they truly run the gamut. Some go for the direct approach and put up an image of their product with short explanations of why visitors should want it. Other companies create elaborate pages with moving parts and fancy coded elements.
Of course, some companies fare better than others at creating awesome product pages. We prefer to focus on the positive, so here are 15 examples that we think are really admirable. They nail it with messaging, value propositions, and promoting their product features in a persona-friendly way.
After checking out these pages, why wouldn't you want to buy their product?
Bellroy sells wallets that are thinner than your typical wallet. Now there's definitely value to having a skinnier wallet, but how do you really get the consumer to understand the value of something like that?
To do that, they broke up their product page into three stages: understanding the problem, how to fix the problem, and how Bellroy can help you with the problem. There's even an interactive section that shows how the skinny wallet will fill up in comparison to a different wallet: As users move a slider back and forth along a line, both of the wallets fill up with cards and cash, helping them see firsthand the problem Bellroy's skinny wallet solves.

[Click here to see Bellroy's full product page.]
Wistia is a video hosting and analytics company that allows you to get detailed analytics about how your videos perform. When I first went to their product page, I seriously could not tear myself away. It's engaging, entertaining, and has a dog in the featured video. (Seriously, what more could you want?)
Let's dive into what really makes this product page stand apart. First, we're presented with five, colorful graphics illustrating their tools' value propositions, followed by two calls-to-action in case that's all we needed to see. As we continue scrolling, we see the video along with information about Wistia's capabilities for that video, including adding calls-to-action, email collectors, video heatmaps, and viewing trends.
The perfect way to explain a visual platform is to make a product page that demonstrates the abilities of that visual platform. The entire page lets users see all of Wistia's features and how they'd fit into their day-to-day.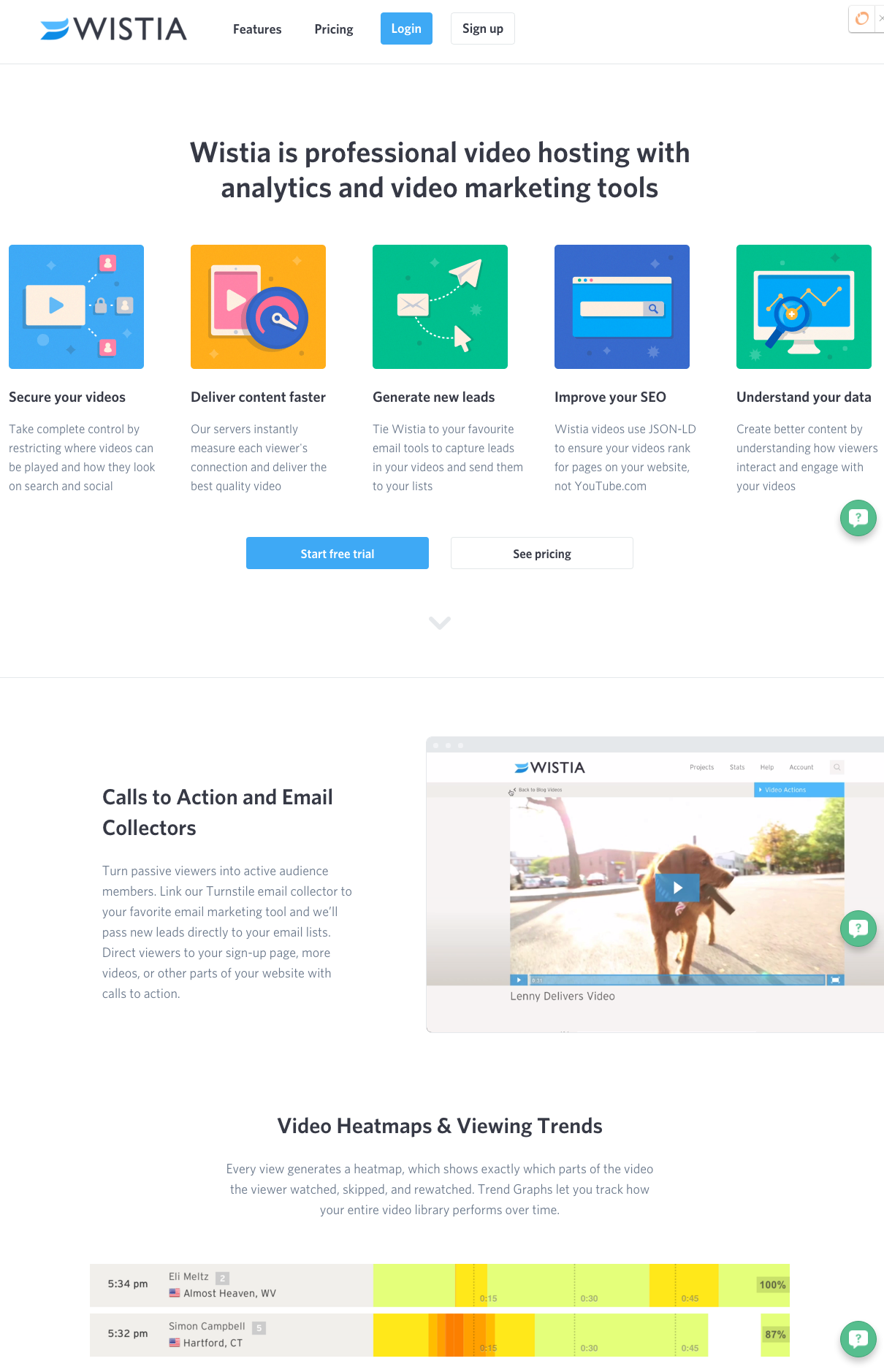 [Click here to see Wistia's full product page.]
Square is a mobile payments company that merchants can use to collect payments from their customers. Their product marketing challenge is showing the world why they're an easier alternative than your typical cash register. Their product page clearly lays out those reasons in a very visual way.
The main headline of each section of this product page has bold, succinct copy: "Small credit card reader, big possibilities" — so that a visitor immediately knows what Square is.
The rest of the page is laid out really clearly with bold headlines (which kind of read like answers to frequently asked questions), lots of white space, succinct copy, and appropriate graphics or photos. Anyone digging deeper into each section can easily understand exactly how Square works from the time someone comes into a store and picks out something to purchase to the time payment is processed.
Some companies, especially ecommerce companies, have hundreds of thousands of product pages. The online dress rental company Rent the Runway is one such example. Each one of their product pages for individual dresses has everything you'd expect it to: images of the dresses, measurements, fabric, price, and reviews. So what makes them really different? The exceptional detail in their "Stylist Notes" and "Size & Fit" sections.
These sections go above and beyond with details that are clearly, carefully curated from stylists and reviewers. They don't just explain what a dress is made of and how it looks; they cover details like exactly how it fits on every part of your body, which undergarments should be worn with it, and which body types it looks best on. Information like this not only delights customers and encourages their trust, but it also makes them more confident in their buying decision.
[
Click here
to see Rent the Runway's full product page.]
Coin is like a credit card, except it's one card that holds the information of all your other credit cards. In other words, instead of filling your wallet with two credit cards, a debit card, three gift cards, and two rewards cards, you can fill your wallet with one card: Coin.
Whereas other product pages depend on text that highlights product differentiation, this page depends on a viewer taking in all of the visual elements. To start, there's a video at the top that really does answer all of your questions about how Coin works. What about my rewards cards?Yes. What if I lose the card? It alerts you when it isn't near your phone. And it goes on and on.
As you scroll down, you see the real magic of this page. Coin provides their product positioning and differentiation, but also shows you how it works by taking you through a visual journey of the Coin card.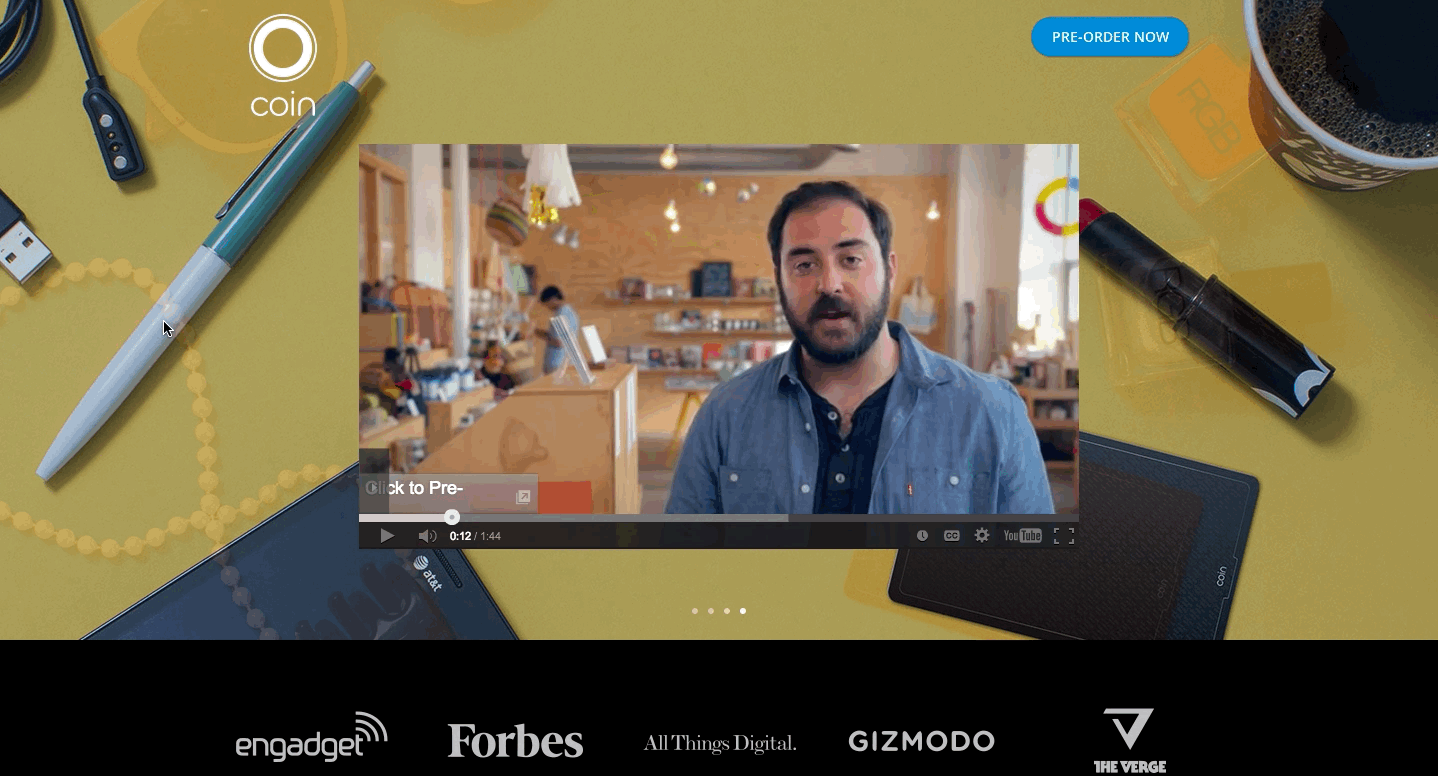 We will have another 5 great product pages later in the week so make sure to look out for that!
Also make sure to sign up to our mailing list to stay up to date on all of our monthly offers and discounts.
[activecampaign form=79]